Welcome To The Best Packaging Solutions Company In The Philippines. Offering Top-Notch Pouch Packaging Services That Do Your Products Good.
Ready-Made Pouch
With a wide range and a minimum order quantity as low as 100 pieces, Ready-Made Pouches are a low-cost and efficient solution for your packaging needs. All are in-stock. Simply add the items to your cart for delivery or pick-up the next day!
Customized Pouch
If you want to stand out, Customized Pouches are the way to go. Customize your pouch in every way you want: pick the size, type of pouch and print your own design! Get customized for as low as 1000 pieces!
FREE SHIPPING ITEMS
DISCOUNTED ITEMS
How to order online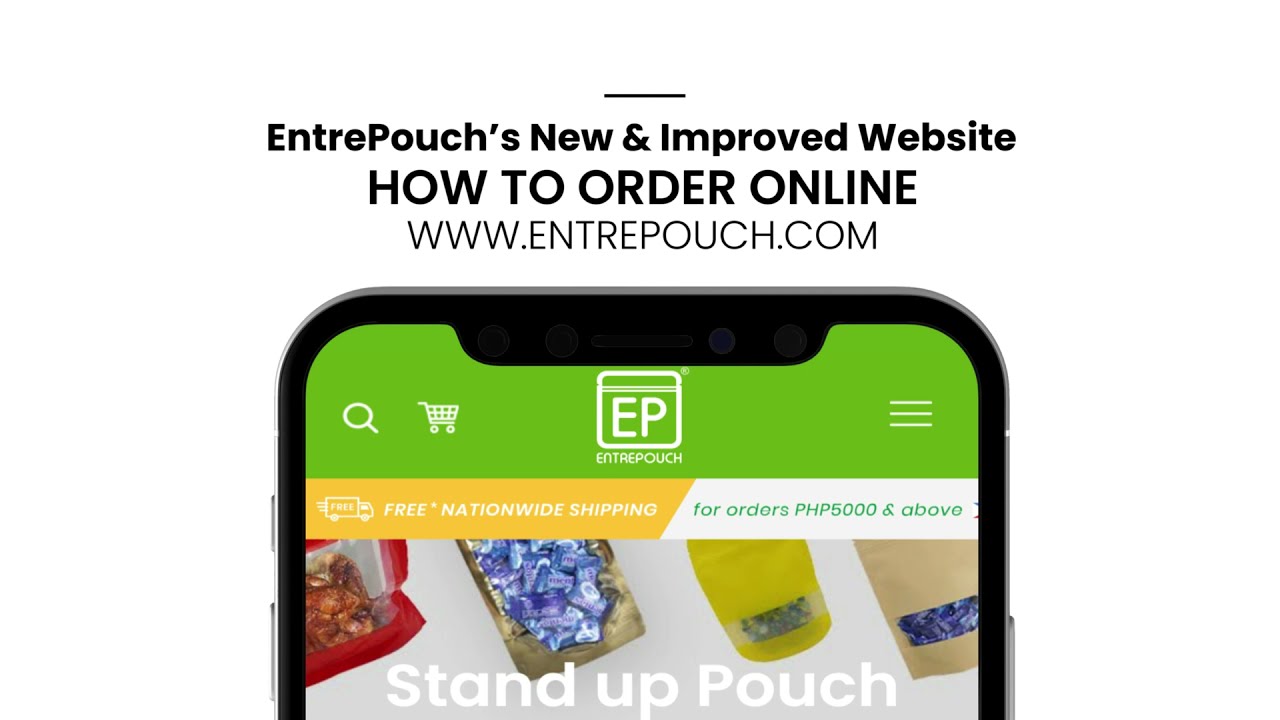 How to order online
Our new website features our complete array of pouches, customization services, packaging solutions. Choose items and add-ons that suit your products best, add to cart and check-out in a few clicks. Watch our short
How-To
clip!
Product Reviews
5/5
Very convenient and user friendly yung website nila. Mabilis din nashiship yung orders ko
Louise Valerie Fajunio Conjusta
5/5
They have been very patient and accommodating. Sobra kong naappreciate na kahit hindi naman ganon karami yung orders mo, hindi ka nila eechepwerahin. Very responsive as well. Two thumbs up!
Joyce Ann Canlas
5/5
my 2nd purchase na po eto super satisfied compare sa divisoria mas mura ang offer dito mababait ang nasagot s mga inquiries tnx again God bless and more clients to come
Rosabelle Sanchez
5/5
thank you for your fast transaction and your ziplocks are big help to small online sellers here.. god bless us!
Mary Ann Sigua Galang
5/5
thank you entrepouch. received my order today. thank you for your quick response
Lyn Muniz
5/5
Ma ganda ang product, morana madali pang mag order.. Salamat po...
Morales Glen
5/5
Maam/Sir thank you po na ship agad ung items kahpon lang ako nag bayad meron agad ngayon. Thank u po :) highly recommended
Jackie Pasag
5/5
Na received ko na ung parcel today..ang ganda ng item..sulit na sulit..thank you..thank you..till next time po ulit
Belteshazzar Abanto Caunin
5/5
The best itong entrepouch kasi sila ang pinaka mura and magaganda ang pouches. 10 STARS. Thank you again!
Jojo Gana
5/5
very accomodating staff..on time delivery..quality product
Jhaniz Aruta
5/5
Received my well-packed order in superb condition. quality of the pouches is very good and im excited to start my small busines. willing to order again in d next months, larger size naman next time. kudos to entre pouch.
Rhodelia M. Austero
5/5
Very fast, professional and efficient. I appreciate the updates on them tracking my shipment. That's a nice touch. 10/10 will order again! Thank you so much!
Ena Marie Tan
5/5
Very satisfied with the product! Fast transaction, Hassle free payment method, Very accommodating customer service.
Cris Salvador
5/5
Their staff is really helpful and they respond very fast to my queries. Plus they deliver in time! Would order from them again.
Stephen Jou
5/5
Recommend supplier when you need any type of pouch. Very smooth transaction
Dominic Tamayo